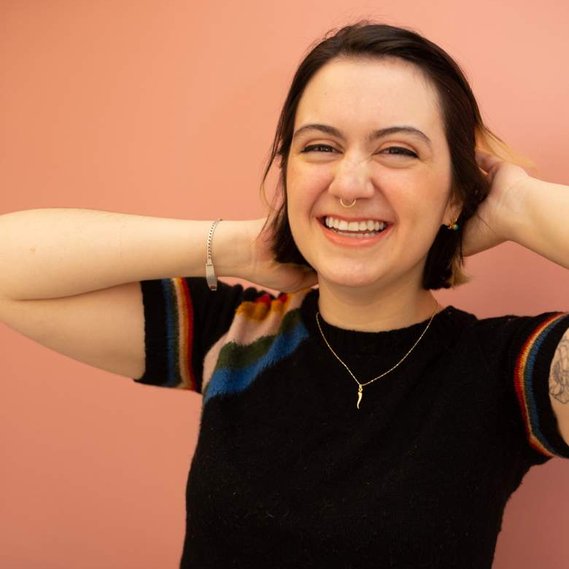 Hey there, I'm Vicky!!!
I'm a type 1 diabetic illustrator and cartoonist originally from the Jersey Shore. My illustrations and comics use gestural and emotive linework, often with a touch of fantastical elements. :)
I'm currently an Art Director at Insider. Previously I was a staff illustrator at G/O Media and a Senior Designer at Mashable.
I live in Brooklyn with my partner, two cats (Pierogi and Spider-Man) and our dog Demolition Turbo Time (It's a family name).
In addition to illustrations and poster work, I also do freelance animation, storyboarding and coloring.
I am available for freelance work and I'd love to hear from you!
Contact me at:
732.678.7452
vickyleta@gmail.com

Clients:
The Intercept, Insider, Fanbyte, RetailMeNot, The New Yorker, Mashable, Gizmodo, Narratively, Dow Jones, Netflix, Buzzfeed, BBC Three, ATO Records, Oh Joy Sex Toy, BOOM! Studios,Tales of the Night Watchman, Dirty Diamonds, Petal, Princess Nokia, Allure
Recognition:

2021 Society Of Illustrators 6th Annual Competition- Editorial Single Image (exhibit and book)
2021 American Illustration Chosen Winner
2020 Society of Illustrators 63rd Annual Competition- Editorial Single Image, Editorial Series
2020 3x3 Magazine - Honorable Mention for Illustration (Editorial)
2020 CA Illustration Awards Shortlist
2018 Creative Quarterly #53 Illustration Award Winner
2018 Ghost City Comics 5x5 Fest finalist
Exhibitions:
2019 Innuendo, Light Grey Art Lab
Press:
>First, You Gotta Assemble the Shit: Keith Silva reviews HOW TO MAKE A SANDWICH by Vicky Leta, November 2018
>A Year of Free Comics: Comedy and Drama about Anxiety in Vicky Leta's Generic Lottery, January 2019